Vyner Road South, Noctorum, CH43
0 Bed House - Detached
For Sale
Reception Rooms: 0 | Bedrooms: 0 | Bathrooms: 0
£665,000
This is the release for sale of the second of two new build houses, situated within the very most prestigious of residential areas of Noctorum. Plot two offers some significant differences from Plot 1: firstly there's the option adjacent to the second of two large double bedrooms to have dressing room/en suite facilities, rather than a sixth bedroom. This option will provide the house with three en suite as well as a family bathroom. The double garage is bigger too than Plot 1, (compare floor plans; 2754 sq' compared with 2096 sq'). You will also see that the rear garden is not immediately overlooked.....
Option of 5 or 6 Bedrooms
And of two or three en suite
Huge family kitchen space
Two further reception rooms
Double garage, gated front
Very close to popular schools
This second plot stands behind Plot 1 and has a electric gated entrance giving access to just two new homes.
The fixtures and fittings of the bathroom ware and kitchen can, at this stage, be chosen by the buyer (within a budget agreed). The estimated time of completion from agreement will be around five to six weeks - more or less the same time it will take to conclude all the legals.
As key holders we can normally arrange a viewing at short notice, so please call us on (0151) 608 8586. Please note a 10 Year NHBC guarantee comes with this house sale.
This significant difference between this rear plot and the front house is the space both within and above the double garage. This bedroom with its two dormer windows would clearly make for a great cinema room or general playroom for the children, however, taking the smaller bedroom adjacent, it could also be a second large 'master' bedroom, converting the bedroom into en suite facilities. This is something our client is happy to install, depending on your preference.
Locator
House moves for the family are more often than not driven by school preference and proximity thereof: St Anselm's College School (Academy) and its feeder, Redcourt Saint Anselm's (independent), along with St Saviour's Primary School, Birkenhead Head School Academy (BHSA), Birkenhead School (Independent for boys and girls 3-18 years) and Birkenhead Sixth Form College all stand within approximately one mile away, (the very maximum), from this post code. That's a great choice.
For pleasure within less than a couple minutes walk there is either one hundred acres of Woodland Trust to ramble through (whilst taking in the views of either the Liverpool skyline, northwards, or southwards, to the Welsh Hills as far as Snowdonia and the coast line, on the clearest of days). This area is commonly called Bidston Hill (Listed Windmill, Bidston Observatory and Bidston Lighthouse offer their own historical importance), or across the road and Wirral Ladies' Golf Club awaits yours skill.
For work you can drive to the tunnel for Liverpool in no more than ten minutes. (Alternatively you may prefer to leave your car at one of two free secure Mersey Rail parking facilities - Birkenhead North and Bidston Stations). Similarly you can access the M53 in less time for Chester and on returning home drop off at Tesco Extra, M&S or a few other choices which are just off the same junction, before you head home, in less than five minutes. For Sat Nav: CH43 7PR
Floorplans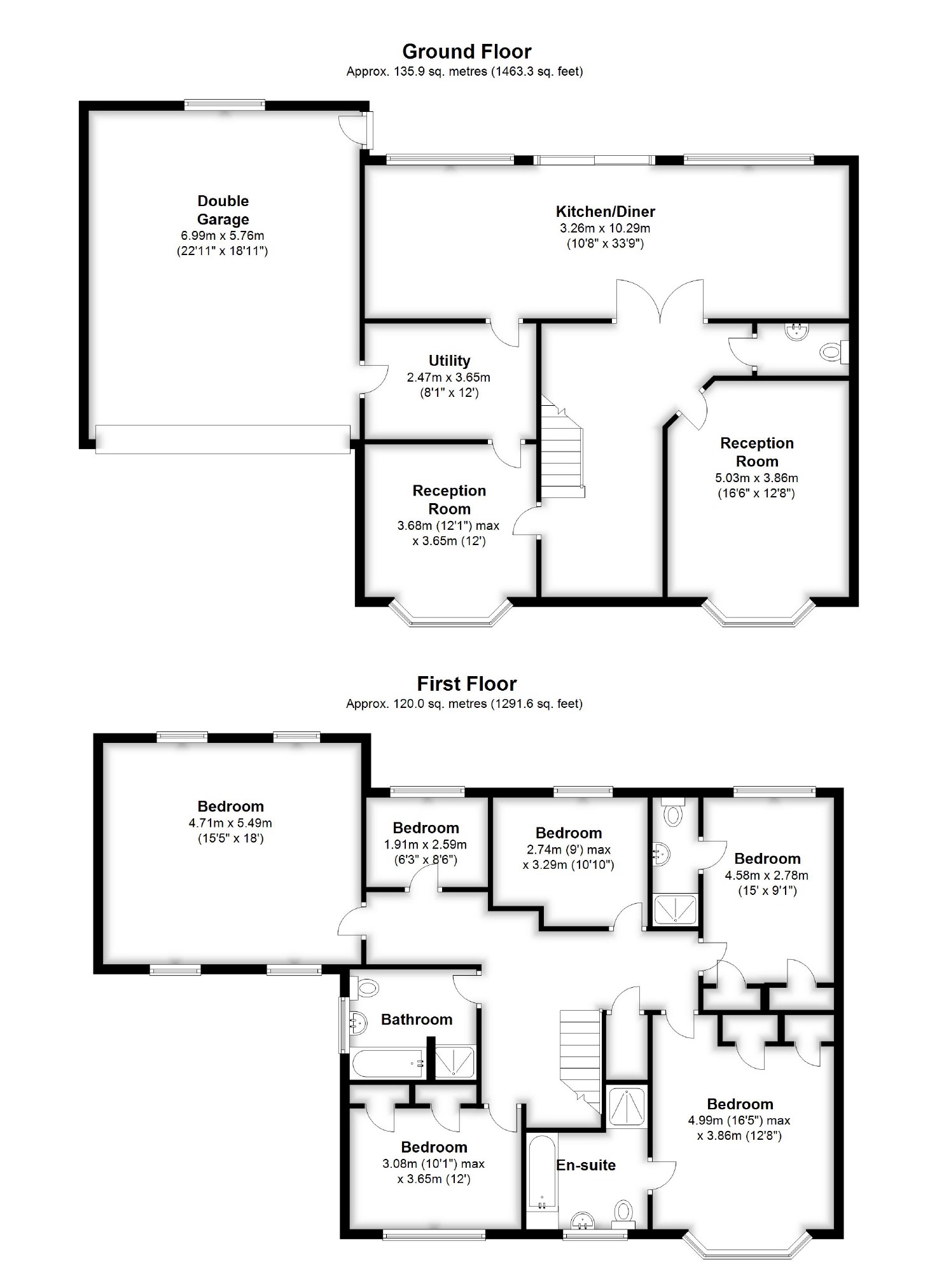 MAP